Learn Languages with streaming video by LingoTube
Learn Languages with streaming video by LingoTube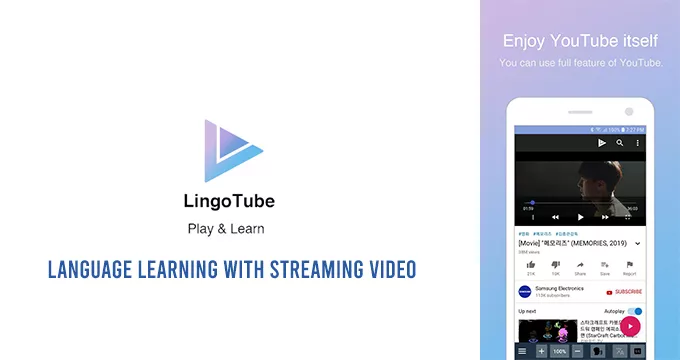 Nowadays, language learning apps are well - demanded in app stores worldwide. They are said to reorganize language learning apps. There are so many apps on app stores that provide a facility for language translation. Among the most popular language-learning apps, LingoTube is the best language learning app.
LingoTube is a Live dual subtitle player for English and other language learning!
The use of videos for learning helps us to easily understand other languages. Learning through videos is now common and convenient. LingoTube provides an online learning facility with streams of videos.
Now, People who want to learn any type of language, they use their mobile phone to learn a language and download different applications. this app gives a lot of learning material which we can read anywhere, anytime. LingoTube is very easy to use. By using this app you can learn a dozen languages, including popular ones like Korean, English, Arabic,Spanish, French, and many other languages. In this era, learning a language is very important for our career progress. There are lots of benefits to using LingoTube for learning other languages.
We can communicate with other people easily in their language.
It helps to enhance the learning skill of foreign languages.
It helps to increase the vocabulary of other languages.
The User-interface is easy and simple to use.
LingoTube Features:
There are some amazing features of the LingoTube Application. here is little details about its features also:
Dual Subtitles: You can see Dual- subtitles of our domestic language and other far-flung languages. It also provides the facility to choose in case you want to see subtitles or hide while playing or paused. learning videos with subtitles improve our skills of speaking and listening.
Catalog for learners: As I tell you, that app has amazing features once you use it you will love it. The Second feature about this app is Catalog (list of items) for learners. It's very difficult to find the item or videos. Even YouTube might have no Subtitles. LingoTube app provides you a list of items and videos from where you can easily find what you want to see. LingoTube has a proper Subtitles list. You can fast forward or backward using the subtitles.
Youtube Itself: LingoTube has a feature where a search filter is needed to find videos on YouTube that have both English and Spanish (or whatever other languages) subtitles that are not auto transcribed/translated. LingoTube shows Youtube Website Itself. so we can use the feature of Youtube in it easily.
Convenient Features:
LingoTube has very handy features. LingoTube helps us to improve our vocabulary. If we are watching any Korean drama and want to see a translation, LingoTube provides an offer about dictionaries & translation. We can use the Caption editor to make changes to the text and time codes of your captions in LingoTube -the language learning app. Even so, you can bookmark your favorite videos and share them!
Merge Subtitles: In LingoTube you can merge Subtitles into complete sentences. It is effective for TED videos, where you can post talk online on your ideas.
These all features of LingoTube -learning language with the streaming videos help you to enjoy.
LingoTube is a very interesting and informative app. It is a very colorful app with awesome features, that help you to take advantage of this app. This app is better to help you without communication with people and spending lots of your money and time. It's the best language learning app.
How to get LingoTube-learning language with streaming videos:
Go to your app store and write the name and download it.