Best Android Wallpaper Apps 2018
Best Android Wallpaper Apps 2018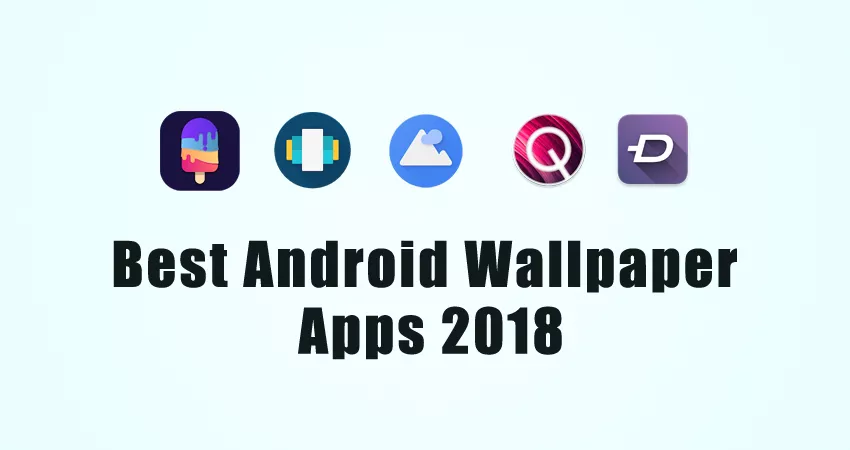 At the present time, we check our mobile more than a hundred times a day. In phone wallpaper being the first thing we see, it can really inspire our mode. And this is the best way to show our unique personality. So, here I am introducing some best android wallpapers apps.
1: Walli - 4K, HD Wallpapers & Backgrounds
Walli is one of the best qualities, the selective combination of unique and cool wallpapers. It is the great choices of categories and artists. Easily browse between our awesome wallpaper with 3 main sections:
Featured: check Walli team suggests which wallpaper
Popular: according to other users find out what's the finest wallpaper
Recent: Find the latest wallpaper on the app
Categories (Animals, Quotes, Space, Nature, Skulls, Black, etc…)
2: Backdrops Wallpapers
Send hundreds of original wallpapers made by the team of Backdrops at home by hand. Enjoy different walls specially designed for your devices. You will not find this background in another app. Join the action and upload yourself wallpaper. Share your own sample of photography or work. The only high quality original ideas will be approved for the community tab. This ensures a complete set of images to be your wallpaper. The Backdrops team will proceed with sharing photos of high quality public domain with you. Team will constantly prepare new backgrounds for you. This means that the app has new high quality content every day.
3: Google Wallpapers
Make your most beautiful wallpaper and advanced features. Change it as you like so, your phone always represents your style.
Enjoy a collection that continues to grow: access photos from Google Earth, Google +, and other partners. Twice your fun: show world wallpaper on your lock screen and keep other in your home screen. Freshly start your each day: choose the type of your choice and you will take new wallpaper every day.
It has two permission notices.
Need to allow custom images as wallpaper.
Currently set the wallpaper to display and allow you to use custom images as wallpaper.
4: Wallpapers by Android Station
Our mission is to serve people around the world with wonderful wallpapers. Take your screen in life with special wallpaper provided by the Android Station Team. Make a real pleasure all the time with exclusive wallpaper from the QHD wallpaper collection. Daily and awesome wallpapers daily updates:
The free app offers thousands of wallpaper and backgrounds to make your screen unique and beautiful.
Easy design, with UI fast access and more performance.
Keep up the latest updates that keep your screen exhausted with new wallpapers and the background you've ever seen.
It is easy to download and set as wallpaper. It's easy to find amazing wallpaper from Gallery of QHD.
5: ZEDGE Wallpapers
ZEDGE ™ offers millions of free color tones, notifications, HD wallpapers and icons to make a variety of your device With ZEDGE ™, your phone is the last talk starter, every call, text, and screen time turns into an entertaining experience. Improved search capability helps you find ringtones and wallpapers that you are looking for. Search page features, Stylish color tones and wallpaper just picked up for you. App icon packs exchange your calendar, mail, phone and other icons with a theme just for you. Without downloading add wallpapers and sounds to your favorites. Access your color tones and wallpapers on all your devices with a simple login.